Couverture en polar / Picnic Blanket with Removable Stakes # 5230
This cozy polyester fleece blanket with water resistant lining includes removable stakes to secure the blanket while enjoying your picnic. Blanket is 53" x 47" unfolded. Includes convenient carrying handle and zipper pouch for stake storage.

Colors: Black, Navy
Size: 53" H X 47" D
Decoration:
We offer high-quality decorating methods. Each method has its own unique look, allowing you to choose the one that delivers the greatest impact for your brand. Set-up charges applicable.
Contact our customer service for more information about decoration methods and prices. infos@cadeauxtendance.com
Set-up charges applicable
Minimum quantity: 36
Contact our customer service rep for a rebate on a quantity of 100 and more.
(514) 887-9335 infos@cadeauxtendance.com
+ email us your logo and receive a free virtual sample : infos@cadeauxtendance.com
*********************************************************************************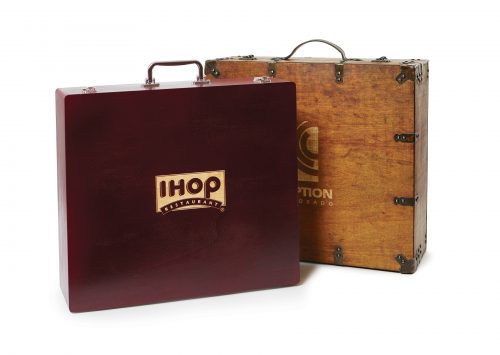 CUSTOM PACKAGING
Make a splash by enhancing the presentation of a blanket, drinkware piece or tech item. We've got a variety of ways to showcase your brand in a whole new way.
Full-color edge-to-edge decoration on a custom wrap

Blanket ribbon with optional full-color card; ribbon can be custom decorated, decorated with stock art or left undecorated

Gift box

Executive Wood Box

Antique Wood Suitcase Box

Customizable cards are sturdy 15 point card stock and




measure 6" x 5½"
*********************************************************************************
Decoration & emballage:
Nous offrons plusieurs choix de décoration, broderie, gravure, piece de suède gravée au laser, pièce de cuir brodée, etc... pour mettre en valeur votre branding et personnalisation.
Veuillez contacter notre service à la clientèle pour discuter des options disponibles infos@cadeauxtendance.com
Montage de logo en sus.
Quantité minimum : 36 Contactez-nous et obtenez un rabais à l'achat de plus de 100

(514) 887-9335 ou cliquez ici : infos@cadeauxtendance.com
+ faites nous parvenir votre logo par courriel et recevez gratuitement un échantillon virtuel: infos@cadeauxtendance.com